Rock-Aozora 2 (ロックアオゾラ2) is a different take of the fifth story in the Aozora's Adventure series and is the second game to feature gameplay reminiscent of Capcom's Mega Man series.
It's story is shared with Aozora's Adventure II's, though with several differences.
Main article: Aozora's Adventure II#Plot
The plot of this title is the same as Aozora II's, however instead of only Masayoshi, Chinatsu, Girou, and Saniko serving as bosses prior to reaching Fayato, he now has Kazuhiko, Bachi, Sharkane, and Mignonette assisting him as well. Additionally, Aozora uses the Aozora Buster to battle and copy the Special Weapons of the bosses instead of his own melee attacks and Power-ups.
Main article: Gameplay of the Rock-Aozora series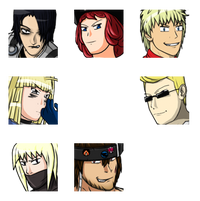 Ad blocker interference detected!
Wikia is a free-to-use site that makes money from advertising. We have a modified experience for viewers using ad blockers

Wikia is not accessible if you've made further modifications. Remove the custom ad blocker rule(s) and the page will load as expected.